FRIENDLY & EASY TO USE
FLASHFORGE DREAMER FDM 3D PRINTER
Equipped with versatile features, Dreamer gets you to create practical & interesting objects for your home and the world much easier!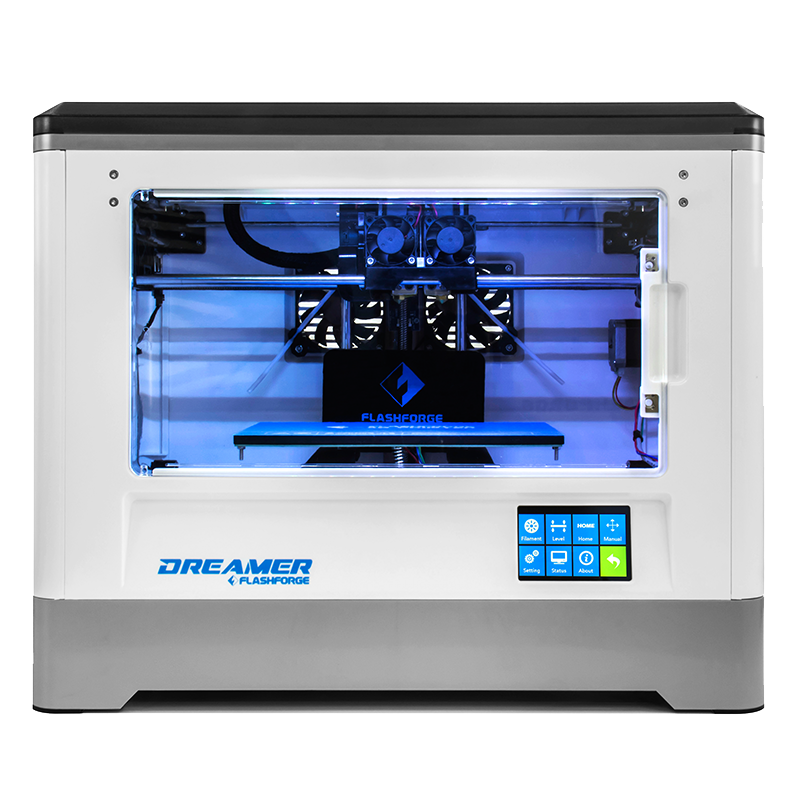 VERSATILE PRINTING CHAMBER
Dreamer features a closable door and a removable cover to keep out dust and foreign particles, which also make Dreamer a fully enclosed workspace to retain heat in the chamber, leading to better ABS prints. All of its hot and moving components are contained inside it to make it safer to use.
Open the door, remove the cover and active turbo fan, side fans and back fans to ventilate and cool down the chamber for better PLA prints.
Dreamer is CE and FCC certified to be safe used in the home, office or classrooms.
A. Removable cover.
B. Removable side cover.
C. Turbo fan.
D. Active cooling back fan.
MODULAR-DESIGN DUAL EXTRUDER. MORE POSSIBILITIES. EASIER REPLACEMENT.
Dual extrusion is fine-tuned to print color-interlaced object without pausing the print, and swapping next filament each time when a different color or material is needed. It also helps you to print clean and smooth hollow objects when the PVA or water-soluble filament is used as the support material.
Its modular design lets you remove and repair the dual-extruder set easily and quickly.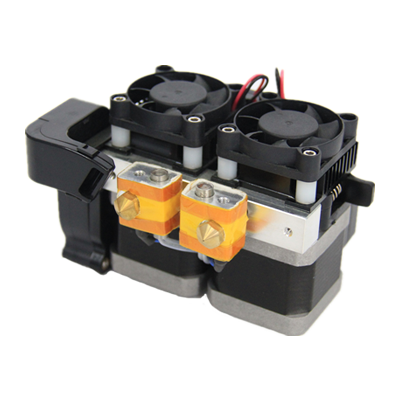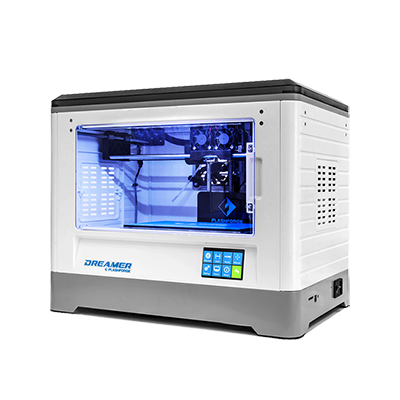 WI-FI CONNECTION. MINIMIZES PRINTING INTERRUPTION.
Send print files via Wi-Fi connection to Dreamer's build-in 4G internal storage. It is reliable to finish printing even if your computer just runs into standby.
• SD Card and USB 2.0 connectivity come standard.
3.5-INCH IPS TOUCHSCREEN. EASE OF USE.
Just touch the intuitive icons on the touchscreen to operate your Dreamer 3D printer from first use!
Built-in 16-language support familiarizes yourself with the operations quickly. You can real-time view the printing status of your model from the touchscreen!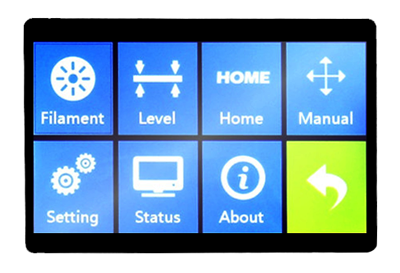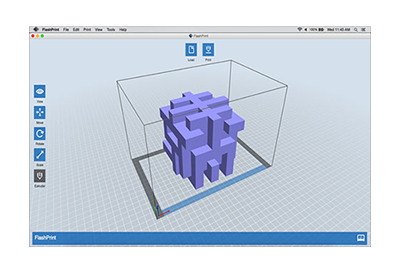 FLASHPRINT SOFTWARE. SIMPLICITY. POWERFUL FEATURES.
Simple and clean user interface gets you to slice .stl file successfully from first use.
Powerful & efficient FFSLICER slicing engine saves you half slicing time.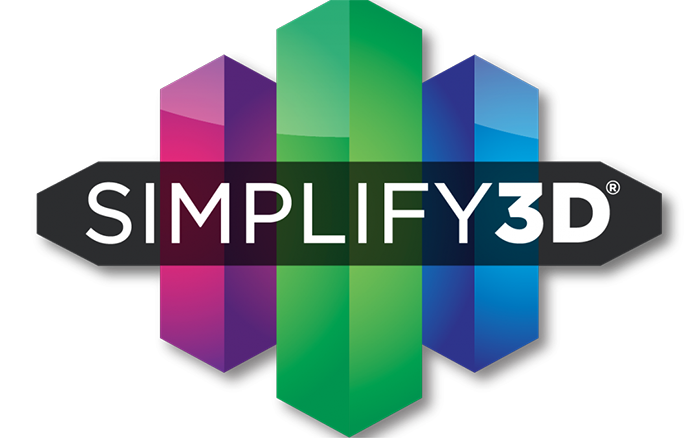 SUPPORT Simplify3D
3D printing slicing software controls every aspect of your 3D print.
It translates 3D models into instructions your printer understands. Better instructions mean better prints, so a simple software upgrade makes all the difference in the world.
In fact, more than 90% of experts agree that 3D printing software has the greatest impact on print quality, even more so than the 3D printer itself!
Please noted that Simplify3D does not come with 3D printer.
Check out the software at https://www.simplify3d.com/
Flashforge Dreamer
The Flashforge Dreamer is a fully enclosed 3D printer suitable for ABS and PLA printing. If you only want to focus on printing your design instead of tweaking the printer, Dreamer is an idea plug and play printer for your choice.
| | |
| --- | --- |
| Feature | Dual-extruder Plastic Housing +SD Card + 0.6KG PLA Blue + 0.6KG ABS White |
| Print Technology | FFF / FDM |
| Build Volume | 230mm x 150mm x 140mm |
| Extruder Quantity | Dual |
| Printing Material | ABS/PLA/PVA filament,1.75mm |
| Case Color | White |
| Layer Resolution | ±0.10mm |
| Positioning Precision | XY: 11 Microns [0.0004 IN], Z: 2.5 Microns [0.0001 IN] |
| Layer Thickness | 0.3mm-0.05mm |
| Nozzle Diameter | 0.40mm |
| Printing Speed | 24cc/h |
| Extruder Temp. | 0-240°C |
| Heating Plate | Yes 0-120°C |
| Connectivity | USB Cable / SD Card / Wifi |
| Supports (OS) | Winxp/Vista7/8, Mac OX |
| Operation | 3.5in Full-color IPS Touchscreen; |
| Language Interface | English/Chinese/Japanese/German/Korean |
| AC Input | 100~240 V, ~2 amps, 50~60 Hz, 350W |
| NW/GW | 14kg/17kg |
| Overall Dimension | 485×400×335mm |
| Packing Measurement | 565×430×535mm |
| Approval | RoHS/CE/FCC/ISO 9001 |
| Software | FlashPrint (comes with printer), support Simplify3D (purchase seperately) |
| File Type | Input:STL/OBJ, Output:G |
| Warranty | 3 months in-shop warranty |
| What's in the box | 1 x 0.6KG PLA filament, 1 x 0.6KG ABS filament, Print tape, SD card, Power cable, USB cable |