ELEGOO Mars 2 Pro 2K Resin 3D Printer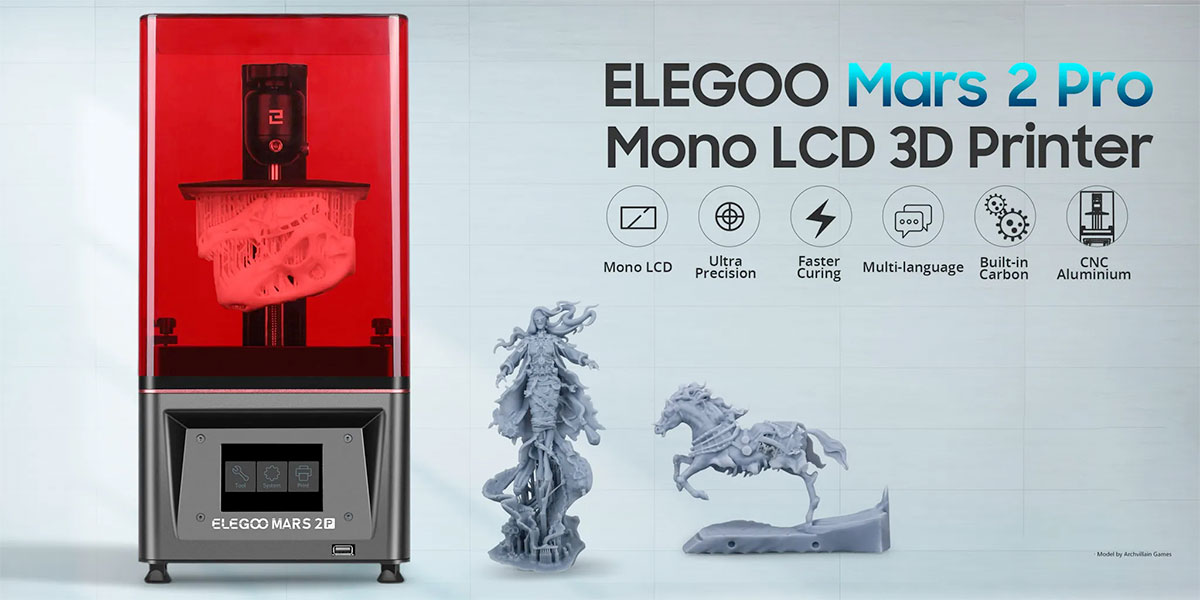 Main Features:
[Fast Printing and less maintenance] Mars 2 Pro comes with a 6.08 inch monochrome LCD of 2K HD resolution and only takes 2 seconds per layer exposure to cure resin, which could significantly enhance your printing efficiency. Mono LCD has a much longer lifespan and stable performance during long term printing, thus saves your cost.
[Outstanding prints and ultra accuracy] Brand new light source structure provides more even UV light emission and working together with 2K mono LCD, the printing details and precision are greatly improved and the 3D printed models are fascinating.
[Sturdy build quality] CNC machined aluminum body makes Mars 2 Pro a very formidable machine. Newly-designed sandblasted build plate has a much stronger adherence during printing and enables consistent printing success. Built-in active carbon could absorb the fume of resin and offer you a refreshing printing experience.
[Multi language interface] Mars 2 Pro now supports 12 kinds of languages so customers across the world could operate the 3D printer more conveniently without barries.The newly added 10 languages are Japanese, Dutch, Korean, French, German, Russian, Italian, Spanish, Turkish and Portuguese.
[Warranty and Service] We provide a 1-year warranty on the whole printer and 6-month warranty for the 2K LCD (FEP film is excluded).
Finish Kit Includes:

Resin Tank x 1
Build Platform x 1
Metal Scraper x 1
Plastic Scraper x 1
User Instruction x 1
Glove x 3
Funnel x 10
UL Adapter x 1
U Disk(2 GB) x 1
Backup Screws x 1
Silicone rubber seal x 1
2K Monochrome LCD

ELEGOO Mars 2 Pro MSLA 3D Printer comes with a 6.08-inch Monochrome LCD that has 2K HD resolution. It is four times longer in lifespan and two times faster in printing speed than the regular RGB LCD 3D printers, which means higher printing efficiency, more stable performance, and less maintenance.

Multi-language Interface

The new operating system now supports 13 different languages: Chinese, English, Japanese, Dutch, Korean, French, German, Russian, Italian, Spanish, Turkish, and Portuguese, which significantly facilitates worldwide users to use Mars 2 more conveniently.

Built-in Active Carbon

Like Mars Pro, Mars 2 Pro keeps this function as well, so you can enjoy the same refreshing printing experience. Built-in activated carbon could absorb the fume of resin. Working together with the turbo cooling fan and silicone rubber seal, you can barely smell any irritant odor.

CNC Machined Aluminum

Mars 2 Pro is made of CNC machined aluminum from build platform to resin vat. It has a very solid build quality and high durability like a reliable workhorse that always get its work done.

COB UV LED Light Source

Excellent heat dissipation performance, high luminous maintenance rate, uniform light emission, and no spots. COB light source has proved itself to be a fantastic upgrade that ensures each printing comes out perfectly.

Chitu Box Slicer

ChituBox has been very helpful when using ELEGOO resin 3D printers from slicing .stl file to adding supports. With the latest 8-times anti-aliasing function, you can get a much smoother printing surface.
Additional information
| | |
| --- | --- |
| Weight | 7.7 kg |
| Dimensions | 56 × 28 × 28 cm |
| Build Volume | 129 × 80 × 160mm |
| Connectivity | USB flash drive |
| Resume Printing | No |
| Print Technology | MSLA |
| Software | Chitubox |
| Rated voltage | 100-240V 50/60Hz |
| LCD Screen | 2K MonoChrome LCD |
| Lightsource | COB UV LED |
| Printing Speed | 2 seconds per layer |
| XY Resolution | 1620 x 2560 pixels |
| Z Axis Accuracy | — |
| Layer Thickness | 0.01 – 0.2mm |
| Net / Gross Weight | 6.2kg / 7.7 |
| Machine Dimensions | 20cm(L) x 20cm(W) x 41cm(H) |