3D printing Troubleshoot for beginners
All these troubleshoot are mainly for beginners who just join the 3D printing commnity.
We are trying to accumulate solutions for those common problem based on our experience, question that been asked by our customers, some article and post we read on user help groups or watched on YouTube.
3D printer are not like 2D printers, it involve one more axis and more parts. One problem may have different or caused by more factors, therefore it'll be great that all of us can share our experience in the comments so other can learn from your experience.

Some photos may come from the record when reading on articles on help groups that we can't remember the link. If the photo is taken by you and you don't wish it to be used at our website, kindly contact us, we will remove it.
It'll be great to join some of the user group, to ask or look for some solutions.
Creality Official Youtube Channel
Creality – Look for Creality Printer Troubleshooting
Facebook Groups
Creality Ender-3 3d printer user group
Creality Official Ender-3 Ender-3 pro 3D Printer Group
Creality Ender 3, Ender 5, 5 Plus, CR-20, A10 3D Printers User Group
Creality CR-10, CR-10S, CR-10S Pro/Max, & CR-10 V2 3D Printer User Group
Creality CR-10, CR-10s & Pro 3d Printer
Creality CR-10s 3D Printer User Group
Other Youtube Channels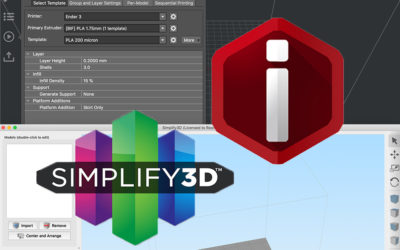 Simplify 3D Slicer version: 4.1.2 Our print profile is modified based on the one created by Chris Elkins. If you are using other slicer may also use this as a reference to tweak on your setting.Ender 3 / Ender 3 Pro / Ender 4 (uploaded at 2020-07-07) CR10 and CR10S...
read more