The World's First Digital Desktop Vacuum Former
Professional-grade thermoforming made compact, affordable and easy-to-use.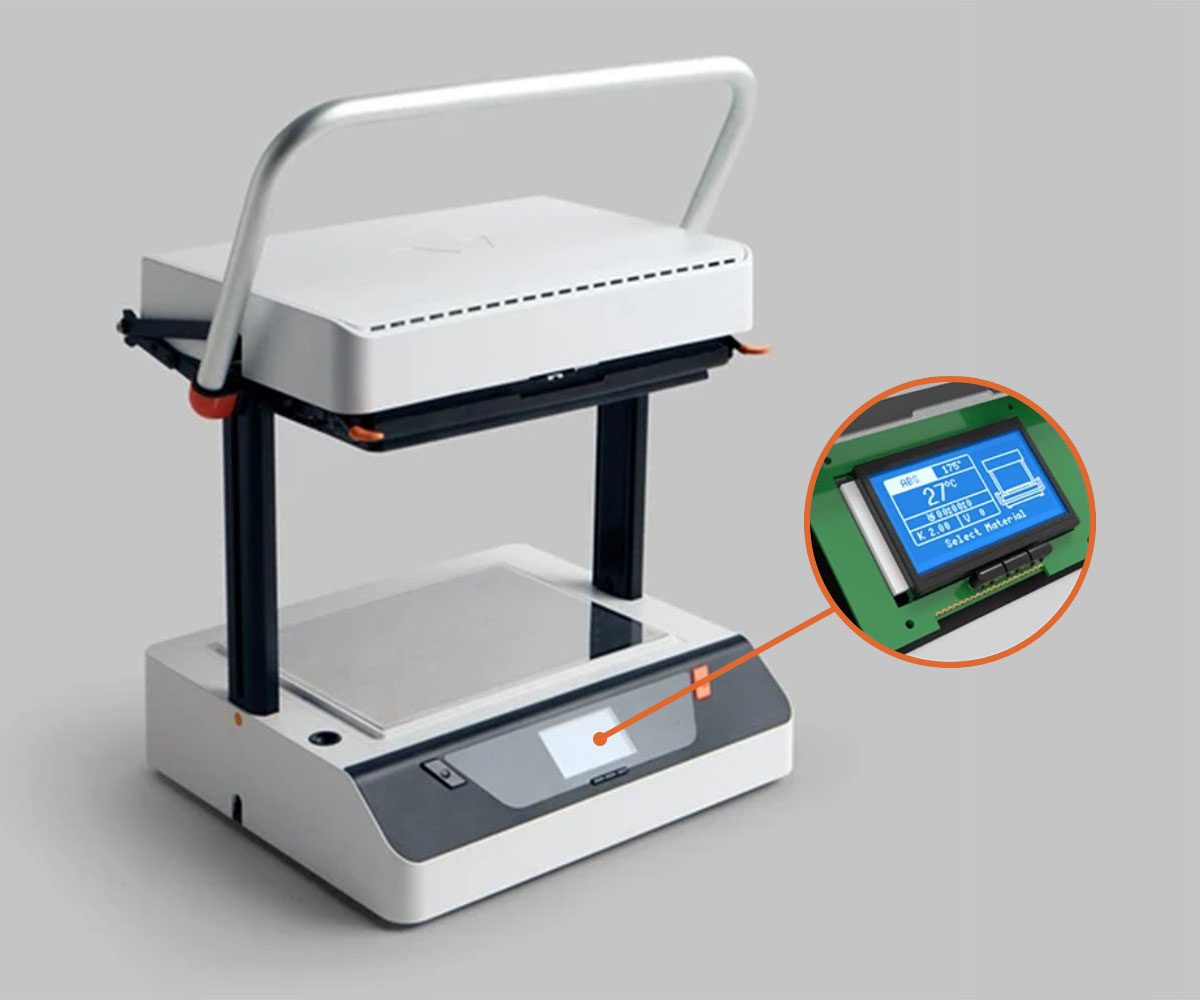 Simplified Interface
Vaquforming is as simple as selecting a material from the menu and pressing the START button. The are no knobs or dials to fiddle with, as all the settings are pre-configured automatically, according to the characteristics of your chosen material.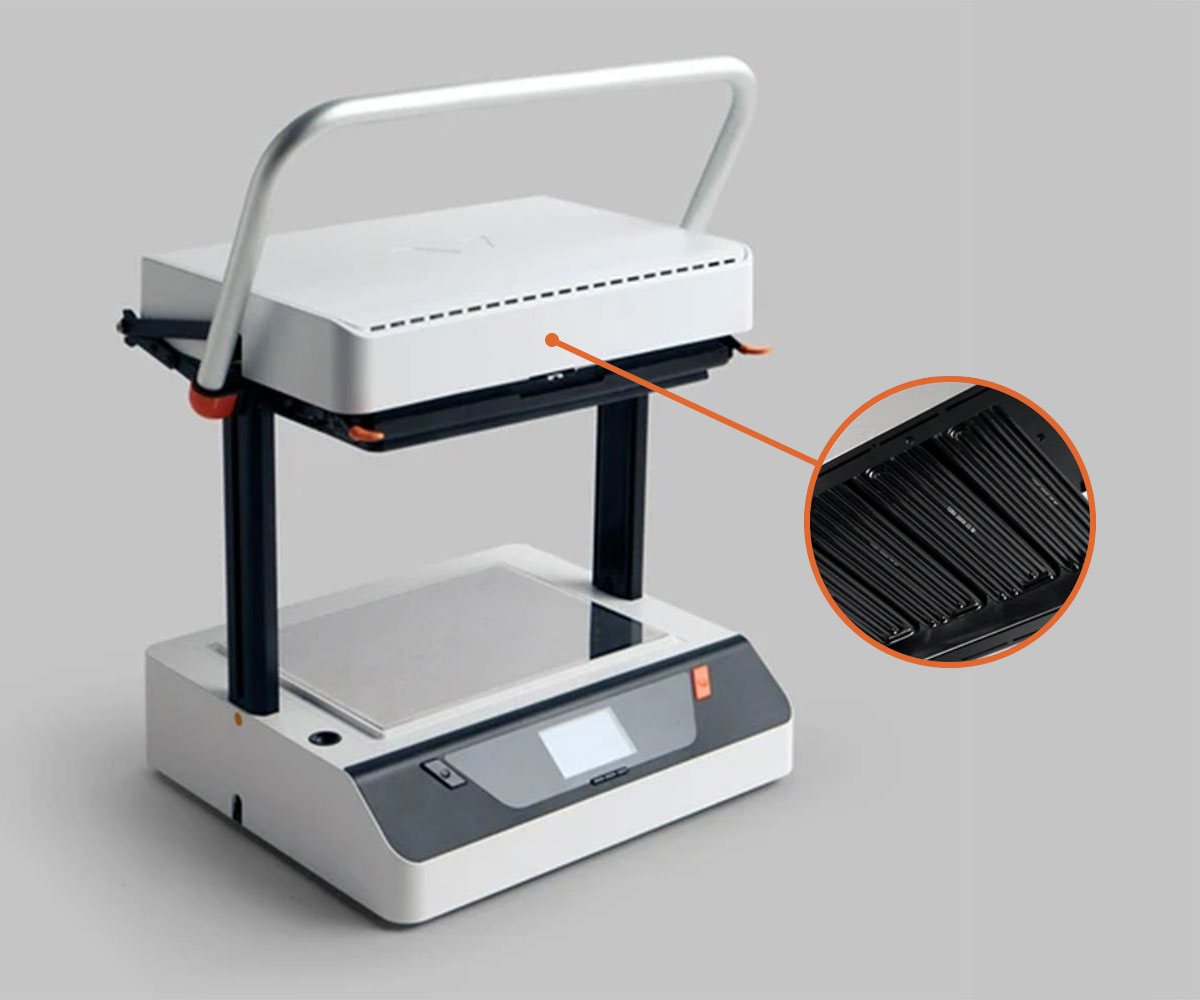 Dynamic Heating
When a material is heated, it goes through several phases before it becomes ready to be formed. Because each material is different, Vaquform heats each material differently, and dynamically. Power is increased or decreased as needed, so materials are always heated to an exact temperature.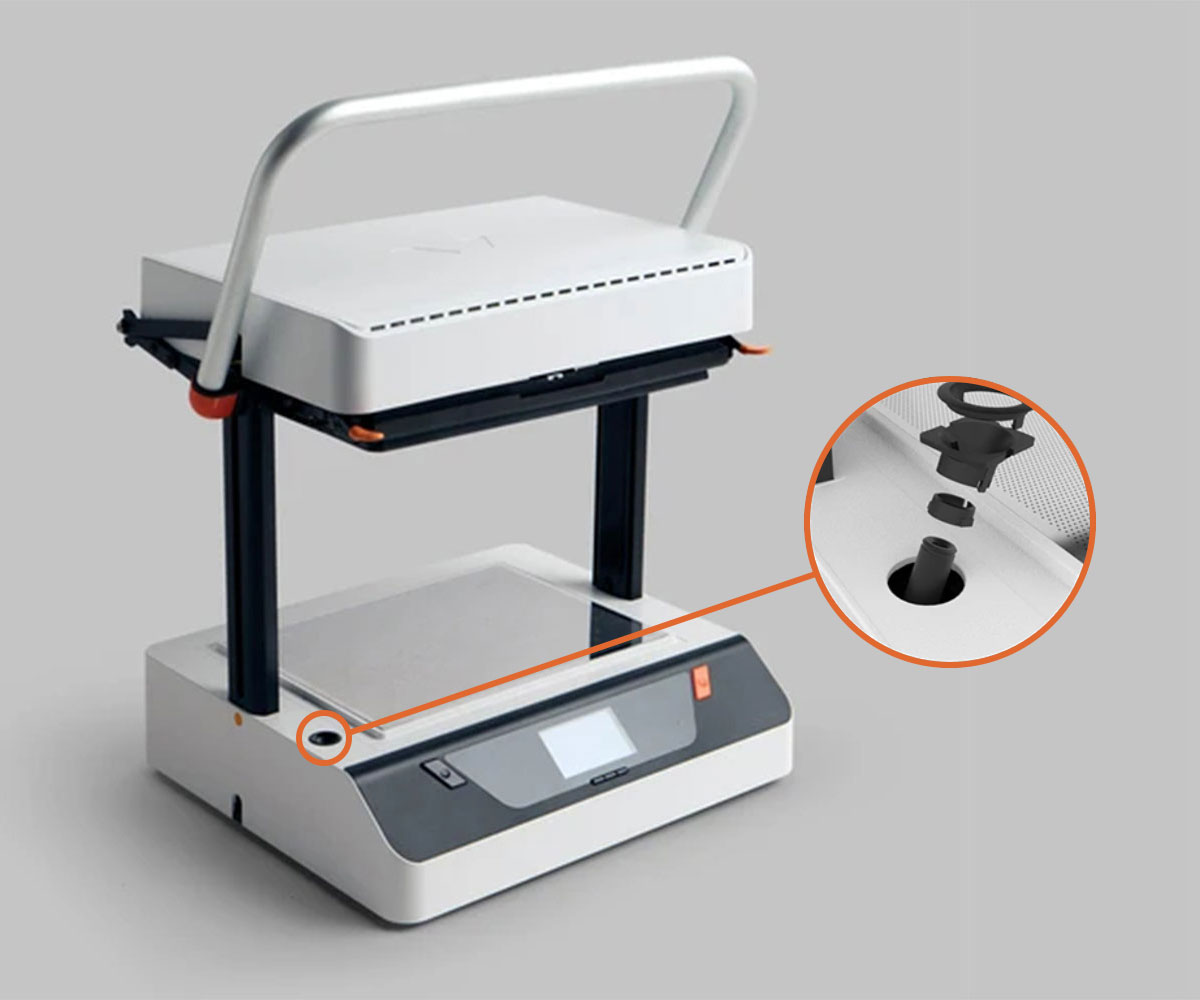 Real-Time Temprature Tracking
Dynamic heating relies on real-time temperature data steaming from Vaquform's medical-grade IR sensor. With an accuracy of 0.1 degree Celsius, it checks material temperature, 10 times per second. It literally keeps an eye on things, so you can relax. Vaquform will let you know when its time pull the handlebar.
Hybrid Vacuum System
This innovation is what truly distiguishes Vaquform from all other thermoformers that came before it. Like an industrial vacuum pump, the hybrid vacuum is capable of high air flow and air pressure. But unlike an industrial pump, the system is light and small enough to be intergrated within the machine itself.
So just to be absolutely clear:
Vaquform does not need a separate vacuum unit.
Vaquform is a manually operated vacuum forming machine that can produce industrial-grade plastic moldings while being compact enough to fit on a desktop.
This machine is the first of its kind to provide a user interface that is similar to what you might find in your smart appliances. There are pre-programmed process controls and user sensors that make it easy to use.
The powerful ceramic heaters allow you to prepare the plastic sheet in a few minutes, while the built-in hybrid vacuum gives high accuracy and mold detail each production cycle.
Vaquform can form 0.30mm to 3.00mm plastic sheets (330mm x 250mm) with a maximum draw height of 200mm.
---
Features
BUILT-IN HYBRID VACUUM: A patent-pending system that combines high airflow and vacuum, speed and power.
EASY TO USE: The built-in process controls and ergonomic design make forming effortless.
AUTOMATIC HEATING: Regulated by sensors, the industrial grade ceramic heaters ensure consistent and safe heating of plastic sheets.
PRECISE CONTROLS: Customize the temperature (up to 1°) and vacuum power needed for each pull.
---
Product Manual Links

Additional information
| | |
| --- | --- |
| Weight | 15 kg |
| Dimensions | 52 × 46 × 54 cm |
| Sheet Size | 330 x 250mm |
| Maximum Sheet Thickness | 3mm |
| Minimum Sheet Thickness | 0.2mm |
| Forming Area | 280 x 200mm |
| Maximum Depth Draw | 200mm |
| Overall Size | 400 x 335 x 405cm (h) |
| Weight | 9kg |
| Voltage | 100v – 240v |
| Standard Frequency | 50, 60Hz |
| Standard Wattage | 1.32kW |
| Noise Level | 65dB |
| Heater Temperature | Up to 250 °c |